Broccoli is a real winner in our kitchen. The more ways to eat it the better. This Brassica is packed with super special phytonutrients called glucosinolates which, when chopped up, release sulfur-rich compounds that have been shown to protect against different types of cancers as well as other chronic illnesses. So when we discovered that broccoli can double as a 'vegetable rice', it made us very excited. Amazing versatile, easy to make and extremely good for you, this wee little side dish perfectly compliments any stew or curry, as well as being the base for a delicious broccoli rice salad. 
One big head of broccoli makes about 4 side dishes. If you are feeling adventurous, throw in a clove of garlic with the broccoli florets into the food processor. Also, for the extra adventurous, try adding some chilli flakes to the wok before the rice – this gives the dish an extra special kick.
You can also serve this bad boy raw, fresh out of the food processor – and if you don't have a food processor, you can grate the broccoli into rice consistency.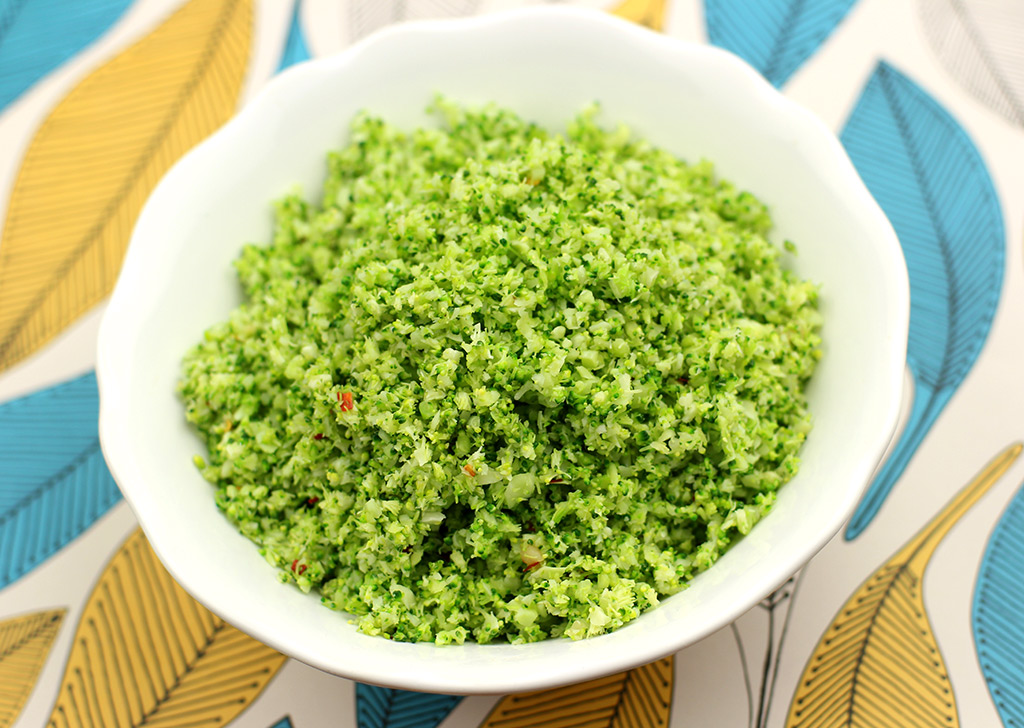 Broccoli rice
Serves:
1 large broccoli = 4 side servings
Ingredients
1 broccoli
1 tbsp. coconut oil
Salt and black pepper to taste
Instructions
Chop the cauliflower into medium sized chunks (florets).
Place the florets into a food processor for around 10 seconds on a medium speed (until it becomes cous cous like).
Place 1 teaspoon of coconut oil in a wok or pan on a medium heat.
Once wok or pan is warm, add broccoli rice and gently saute for around 1-2 mins.
Add black pepper and season to taste.
x