Beans, peas and lentils all belong to the legume family. They're also sometimes referred to as pulses, which is just another word for edible seeds. Legumes are nutrient-dense, low-fat and low-calorie foods, of which there are over 13,000 different varieties.
Legumes are divided into two different categories, immature legumes and mature legumes. Immature legumes (also sometimes called "fresh" legumes) are edible pod beans and peas, and shell beans that haven't yet been dried, such as green beans, peas, edamame and fresh lima beans. Mature legumes (or "dried" beans and peas) are harvested from the pod in their fully developed, dried form. Black beans, lentils, chickpeas and split peas are all mature legumes.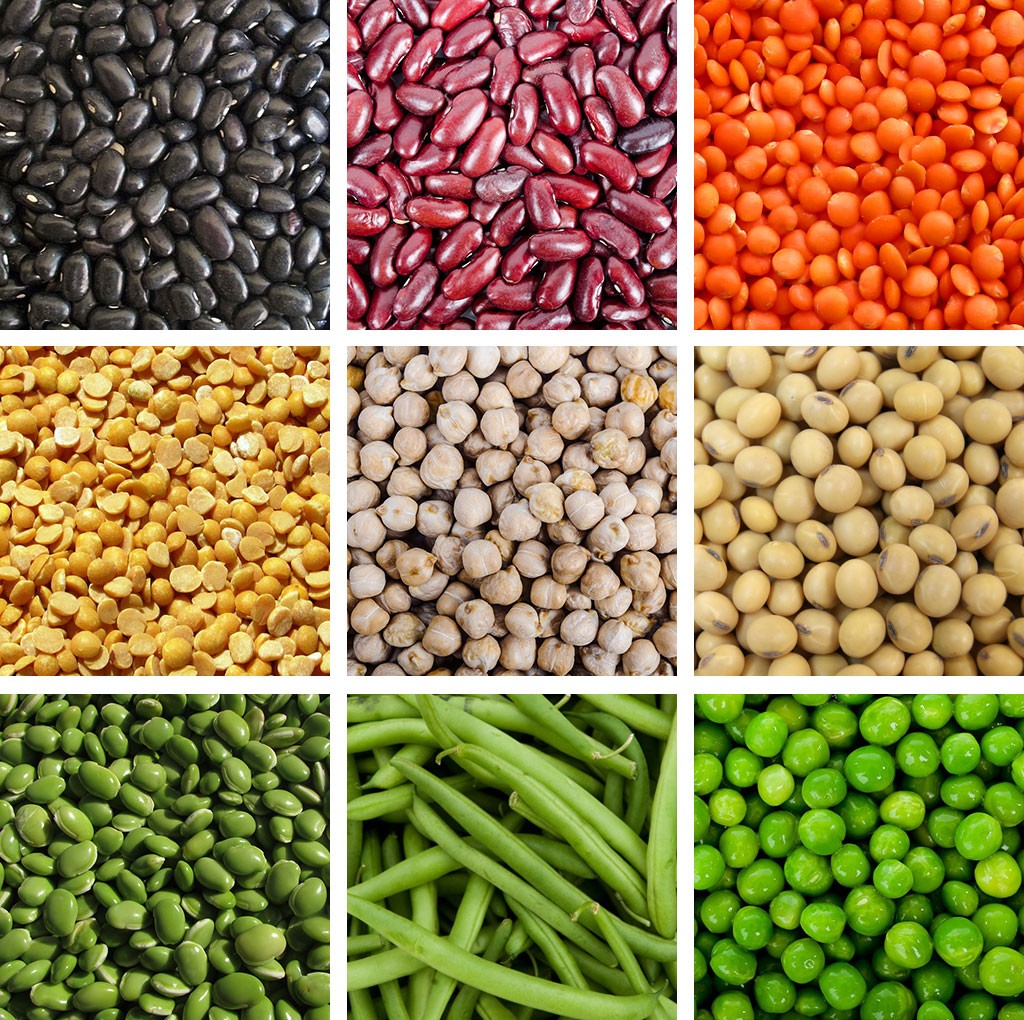 Left to right, top to bottom: dry legumes – black beans, red kidney beans, red lentils, yellow split pea, chickpeas, soy beans. Fresh legumes – edamame beans, green beans and peas.
All of the different types of legumes share two common characteristics: they're excellent sources of protein and they're loaded with fibre. In fact, after meat, poultry and fish, legumes provide more protein per serving than any other type of food. They also come with the benefit of being cholesterol-free and they contain virtually no saturated fat.
The fibre in legumes helps to lower "bad" cholesterol (LDL) by whisking cholesterol compounds out of your system, and it helps to promote regular bowel movements of course. This also offers protection against colon cancers by preventing carcinogenic toxins from settling in the colon.
The combination of fibre and protein makes legumes an excellent source of complex carbohydrates, so they can can serve as a healthier alternative to carbohydrates like pasta, rice and potatoes. As complex carbohydrates, they help to stabilise blood sugar levels so you get a steady supply of energy throughout the day. Legumes also make you feel fuller for longer and therefore help you curb unhealthy snacking.
While the nutritional benefits vary from one legume to the next, they are generally a low-fat, low-calorie and a great source of vitamins (particularly B vitamins) and minerals (iron, magnesium, zinc and potassium). They are also an excellent source of vitamin B17 (or laetrile), which is the controversial anti-cancer compound that is said to target sugar-hungry cancer cells by giving them a dose of cyanide. Vitamin B17 has a bitter taste and is generally missing from our modern western diets.
Many legumes also contain significant amounts of antioxidant compounds that help fight cancer-causing free radicals but, as with fruits and vegetables, the more colourful legumes tend to contain more antioxidants. Small red kidney beans are actually a better source of antioxidants than fresh blueberries.
Legumes are sometimes called "poor people's meat" because they're an inexpensive source of quality protein. One type of legume on its own doesn't form a complete protein of all nine essential amino acids, however, when a variety are consumed together, they provide high-quality plant protein without the cholesterol and saturated fat found in meat. So, choosing legumes over meat a few more times a week promotes healthy cholesterol levels and helps protect against heart disease and cancer.
These are some of our favourite members of the legume family:
Fresh legumes:
Green beans
Peas
Edamame beans
Fresh lima beans
Dried Legumes:
Black beans
Lentils
Chickpeas
Split peas
x