Rich in energy, protein and fibre, packed with antioxidants, vitamins, minerals and of course essential fatty acids, nuts and seeds really are the business! Crunchy yet creamy and wonderfully delicious, nuts and seeds are nutritious, versatile and are a beautiful gift from nature.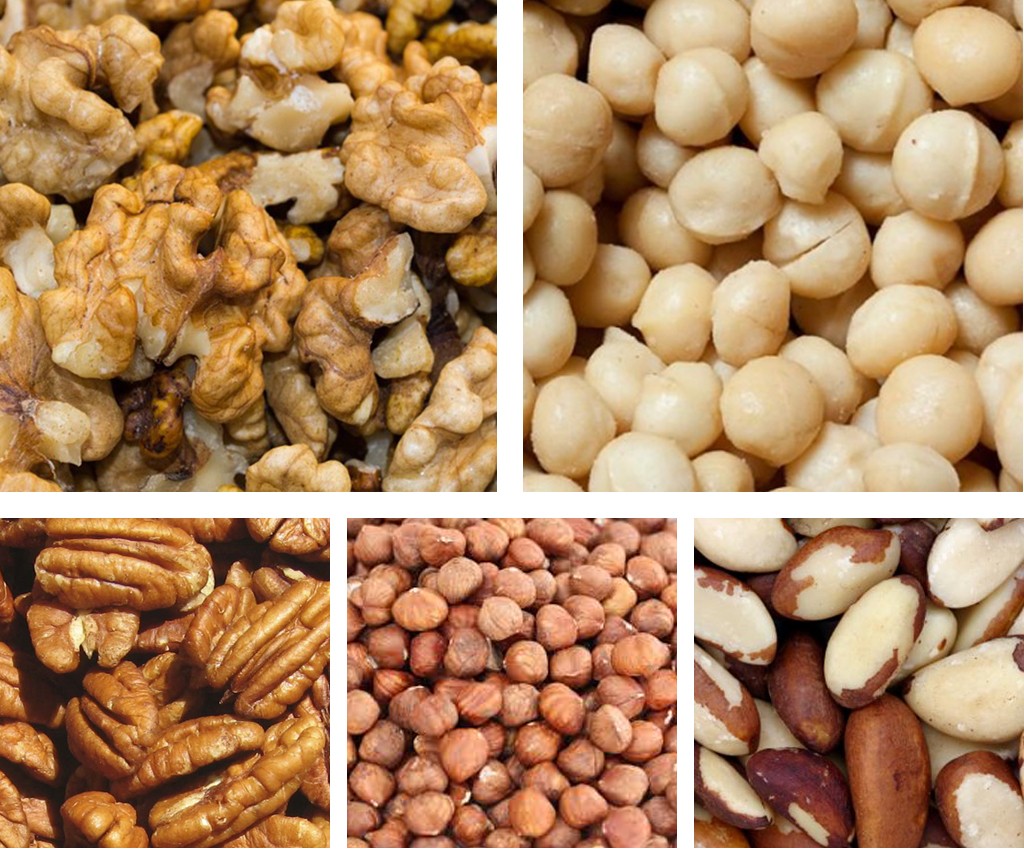 Nuts clockwise: walnuts, macadamia nuts, Brazil nuts, hazelnuts and pecan nuts.
A nut is considered a dry fruit that has a hard or tough shell around an edible kernel. Seeds are the small plant enclosed in the seed coat. Seeds and nuts offer so much goodness to the body that they should form a crucial part of the human diet.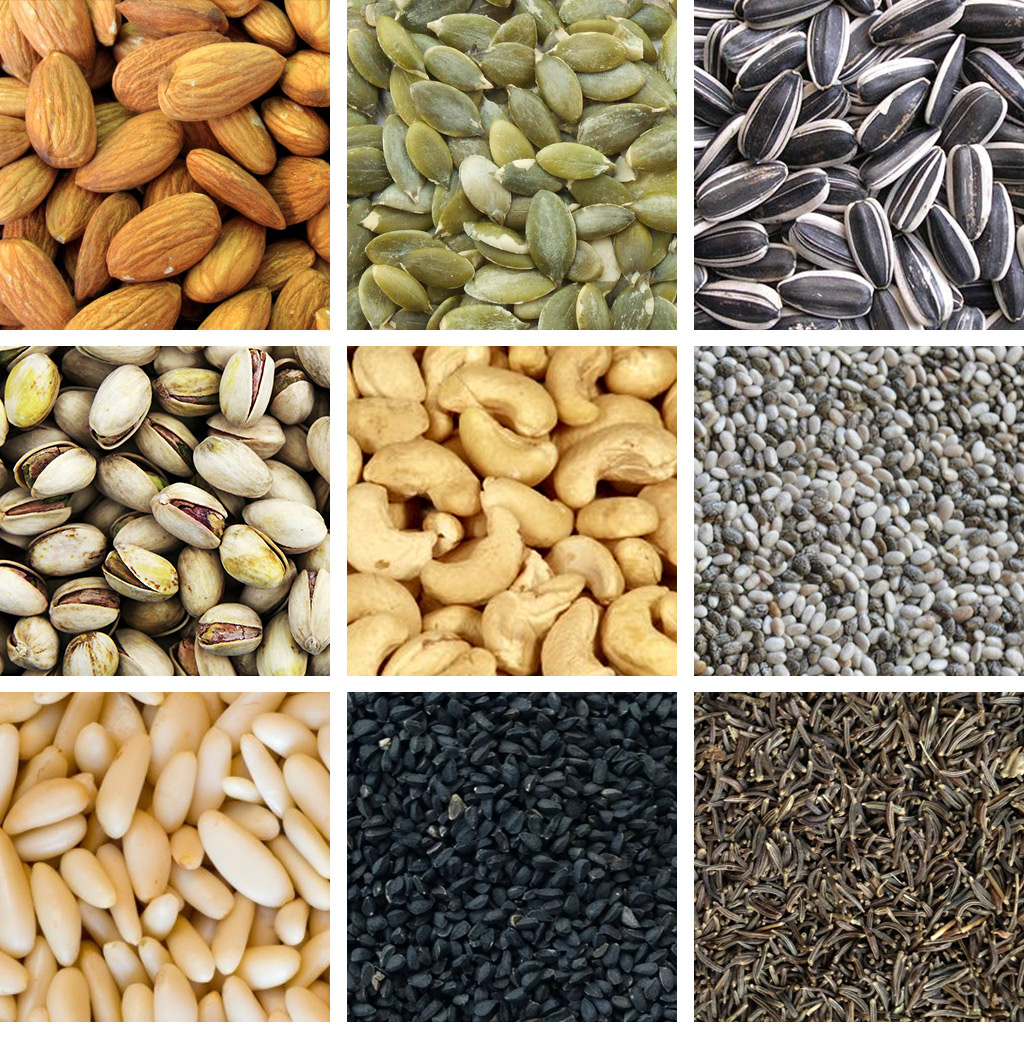 Seeds left to right, top to bottom: almonds, pumpkin seeds, sunflower seeds, pistachios, cashews, chia seeds, pine nuts, nigella seeds and the mighty black cumin seed.
Although seeds and nuts are generally high in calories, they are good calories that your body needs and can use. You shouldn't feel guilty snacking on seeds and nuts as those calories are filled with so much more goodness than the empty calories of say, a biscuit. Because it's packed with fibre, it digests slower meaning you feel fuller for longer, as well as a steady supply of energy to the body.
Fats are essential to our health as they manage inflammation and maintain the normal structure of every cell in our body. The fat in seeds and nuts is healthy unsaturated fat, rather than the harmful saturated fat found in meats, full-fat dairy, fried and processed foods.
Saturated fats raise your cholesterol and increase your risk of heart disease, while unsaturated fats can actually help to lower blood cholesterol. Omega-3 essential fatty acids are unsaturated fats and can be found in oily fish, seeds, nuts and avocados.
Seeds and nuts are also a great source of vitamins, such as vitamin E which is important for a strong immune system, healthy skin, eyes and nervous system. This powerful antioxidant protects cell membranes by breaking free radical chain reactions. Free radicals cause oxidative stress which leads to damaged cells, which then leads to problems like premature ageing, heart disease and cancer.
Some nuts (almonds and brazil nuts) are a good source of selenium, a trace metal that helps the immune system stay strong and alert. They also generally contain minerals such as magnesium, zinc, calcium and phosphorus, which are all needed for bone development, immunity and energy.
In a nutshell, seeds and nuts contribute to our overall health by providing key essential nutrients for disease prevention. With their mix of plant-based omega-3 fatty acids, protein, and fibre, eating the right portion of nuts and seeds (about one handful each day) will give you a boost of energy, while helping you feel fuller for longer, which means less snacking and a trimmer waistline.
 Types of nuts:
Macadamias
Walnuts
Hazelnuts
Brazil nuts
Pecan nuts
Types of seeds:
Almonds (yes, they're technically seeds, not nuts)
Chia seeds
Pine nuts
Sunflower Seeds
Sesame seeds
Note: The peanut is not a nut or a seed but is considered a legume.
x