Having certain kitchen tools at home, has made my life a lot easier. Some are more expensive than others, but certain appliances will last for a very long time, so they are a good investment. They are not absolute necessities, but the beauties listed below help me by saving time and energy and getting the job done.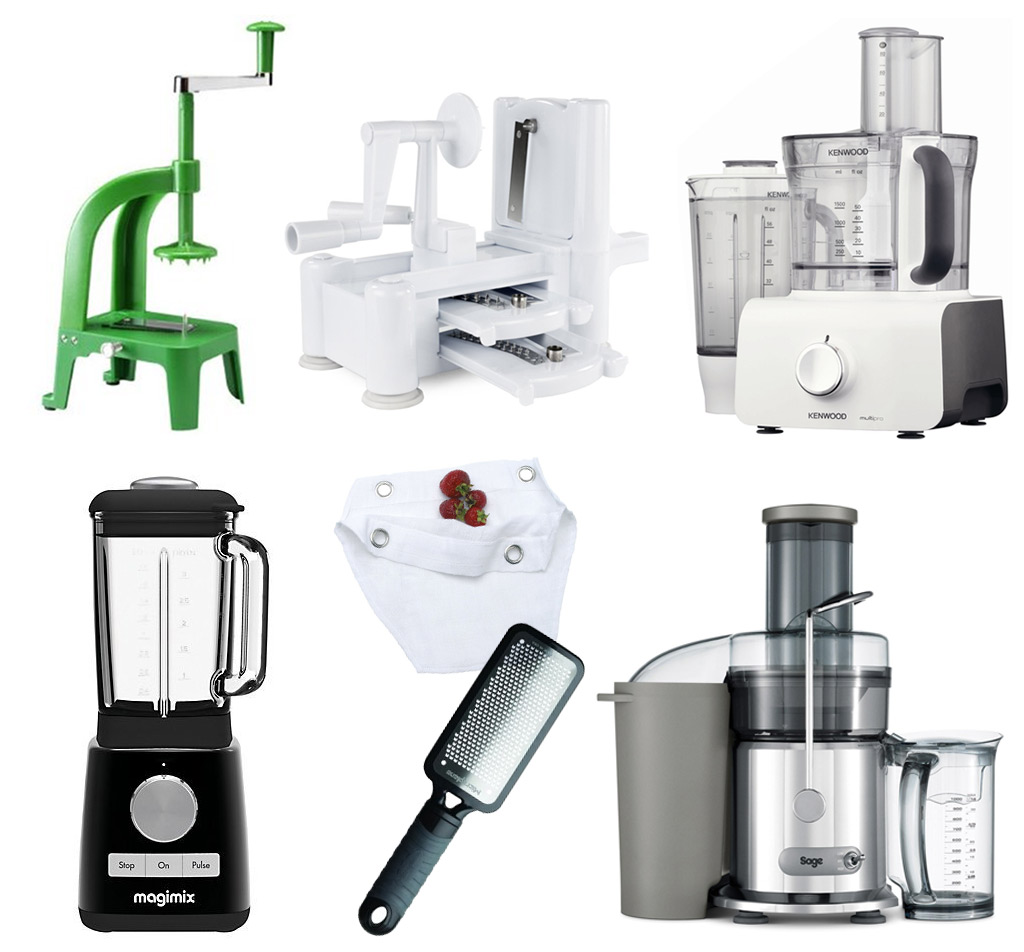 SPIRALIZER
This is one of the first pieces of equipment I recommend you invest in! It is not pricey and is a tool which I swear by. This bad boy turns vegetables into noodles pretty quickly and is both user friendly and portable. Courgettes, beetroot, sweet potato, carrots and parsnip are examples of cool vegetables you can turn into noodles. Say goodbye to the traditional pasta and hello to a less bloating and nutritional alternative.
Amazon have plenty to choose from, this is our recommended one:
However, we have recently purchased the spiralizer below – which is more compact, has better blades and makes finer noodles. This is a goody if you want thiner noodles, but the one mentioned above is more preferable for thicker noodles. As it is from Japan, please remember it will take a little longer to ship:
FOOD PROCESSOR
This gem is the business and is a tool we pretty much use everyday. It creates broccoli and cauliflower rice within seconds and grinds up our nuts for raw desserts, sauces, pesto (the list goes on). These differ greatly in price so make sure you think about what you will be using the processor for. For example, you will need a sturdy one with a good motor if you intend on making things like nut butter etc.
In my opinion, you cannot go wrong with the Kenwood brand. The one found in our kitchen is really good – both solid and reasonable in price:
HIGH-SPEED BLENDER
We use this guy most days for either our smoothies, sauces or soups. Vitamix is a great blender, but the price can be rather unsettling, so we went with the Magimax instead. Good blades, blends well, quick and all round awesome:
MICROPLANE GRATER
This handheld grater, allows you to finely shave chocolate, grate fresh ginger and zest lemons. This is wonderful for all of those smaller jobs (like decorating dessert with cacao shavings):
NUT MILK BAG
You need one of these babies if you embark on making your own nut milk (like almond milk). It's a groovy little nylon bag which strains pulp out of homemade milk:
JUICER
I never understood the point of having a blender AND juicer – surely they did the same thing?  It was only after research did I find that there was indeed a difference. When you juice, you remove the fibre content in the fruit/veges. This means that instead of your body having to break down and digest the food it actually flows directly into your blood stream! Sage is a solid brand and the cleaning of it doesn't take long either. If you are going to invest in a juicer, this is a goody:

After witnessing Dad's journey back from death and the critical role which diet and mindset played in his recovery, we have spent the last 18 months reading, seeking answers, absorbing information and discovering an entire new way of living.

Latest posts by Jane Olphert (see all)