Meditation is a mental and physical practice that we use to separate ourselves from our own thoughts and feelings so that we can become completely aware and be present in the current moment, rather than thinking about the past or future.
It involves a conscious intention to focus our attention without analysing or judgement. The conscious nature of meditation means that it is an intentional, active skill, so it is different from resting or sleeping.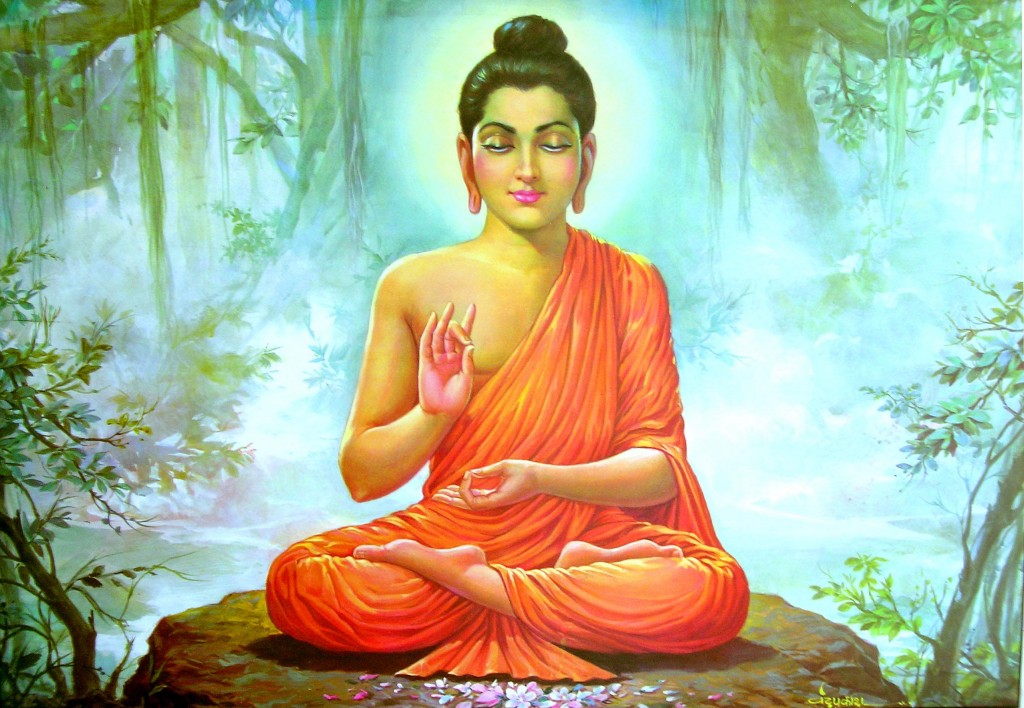 Without going into too much detail (as this post is simply an intro for you), there are essentially three basic types of meditation:
Concentrative meditation: focussing on one single thing, such as breathing.
Mindfulness meditation: acknowledgment of thoughts, visions or sounds.
Contemplative meditation: opening yourself up to consider the deeper questions of life.
Deepak Chopra* says that meditation does not require a specific religious belief. It's a simple mental technique to go to the source of thought. It does however, form part of every spiritual tradition. For example, there are breathing meditations in every tradition. There are body awareness meditations in every tradition as well as variations of mantra meditation.
It can also transform our mind. Buddhist meditation practices are techniques that encourage and develop concentration, clarity, emotional positivity, and a calm way of seeing things in their purest form.
According to Buddhism, this is the most important thing we can do, and is the only real solution to our own sadness, fears, anger, and general confusions that upset the human condition.
What interested us with this practice, is that during all of our research, meditation would be at the forefront of 'wellness' alongside a good diet. Article after article emphasised how meditation is scientifically proven to activate our relaxation response, and as a result, almost every health condition improves.
In the past, we struggled with committing time each day to meditate. We also found it really hard to silence our heads and switch off. Please do believe me when I tell you that it does get easier! Like all good things – practice is key. Don't beat yourself up if you can't 'switch off' straight away. You'll get there.
HOW TO MEDITATE
Deepak Chopra recommends the 'RPM' (Rise, Pee, Meditate) approach to meditation, suggesting that those who can will be well served to meditate first thing upon waking up. However, this may not fit your routine, so just set aside some time each day (beginning with 5 or so minutes), and make it a priority.
Environment
Finding a peaceful environment is key. You need a quiet space where you can be left in peace for a short space of time. We have made a small place in our lounge, with a pillow on the ground and a candle on the table. As we live in London, we don't get as much time outside in our garden as we would like, but when it is a warm summer's day, we will go out and sit on the grass in the sun!
Space
Make sure your chosen space is quiet. Turn off all distractions (including your cell phone). We have found some good 'meditation music' playlists on youtube which help us relax. All you need is somewhere quiet and comfortable.
Position
Sitting on the floor (comfortably) is preferable as it helps us feel grounded, and connected with the earth. If you can't do this, just sit up straight, shoulders back and feel as though your legs are cemented to the floor and slowly close your eyes. Use pillows or anything else which might help you feel relaxed. Make sure your back is straight so you can breathe slowly and deeply.
Set a timer
A beginner should start with setting aside just 5 minutes per day. Over the weeks, try and increase this time to 20 minutes. By setting a timer, you won't have to interrupt yourself by checking your phone or watch.
Close your eyes
Slowly close your eyes. This helps not only minimise visual distraction, but relax the body too.
Focus on breathing
Start to focus solely on your breathing; become conscious of it – both inhaling and exhaling. Try to focus your mind on breathing slowly, in and out. If you find that your mind starts to wander – don't worry, your concentration will improve over time. Just make an effort to refocus your mind on your breathing and try to think of nothing else.
If your mind continues to wander and your breath isn't enough to clear your mind, try counting your breaths or repeating a one word mantra like 'peace' to clear your mind.
Let go of judgement
Most importantly, don't judge yourself as you learn to meditate. Just keep at it and learn to praise yourself for any small step made.
MAKE IT PART OF YOUR ROUTINE
An amazing way to declutter, de-stress and free the mind – so just go for it. You've got this.
Although it may not come naturally in the beginning, just give it time and practice. It's something which Dad actively encourages and really believes is crucial to the art of living well.
Good luck! x
*Deepak Chopra – a world renowned expert in the field of mind-body healing. A prominent speaker and author on the subject of alternative medicine.
---

Making the world a healthier place through the creation of a like-minded community who share experiences, provide support and promote wellness. A community that lives and eats beautifully. Inspired by love, life, family and knowledge.

Latest posts by Jane Olphert
(see all)