It is incredible what you can make with a head of broccoli. You can either grate or place it in a food processor and pulse to create that 'rice-like consistency'. This Brassica forms an amazing base for salads and is one of out 'top 5' veggies, loaded with phytonutrients. This dish is not only delightfully creamy (thanks to the tahini and avocado goodness) but it has quite the 'crunch' thanks to the toasted almonds.
The addition of the salmon means this salad contains a good source of omega-3. You can leave out the salmon if you would prefer this dish to be strictly vegetarian. I choose to gently saute the rice for 3-4 minutes on a low heat, but you can leave out this step if you would prefer to have it raw.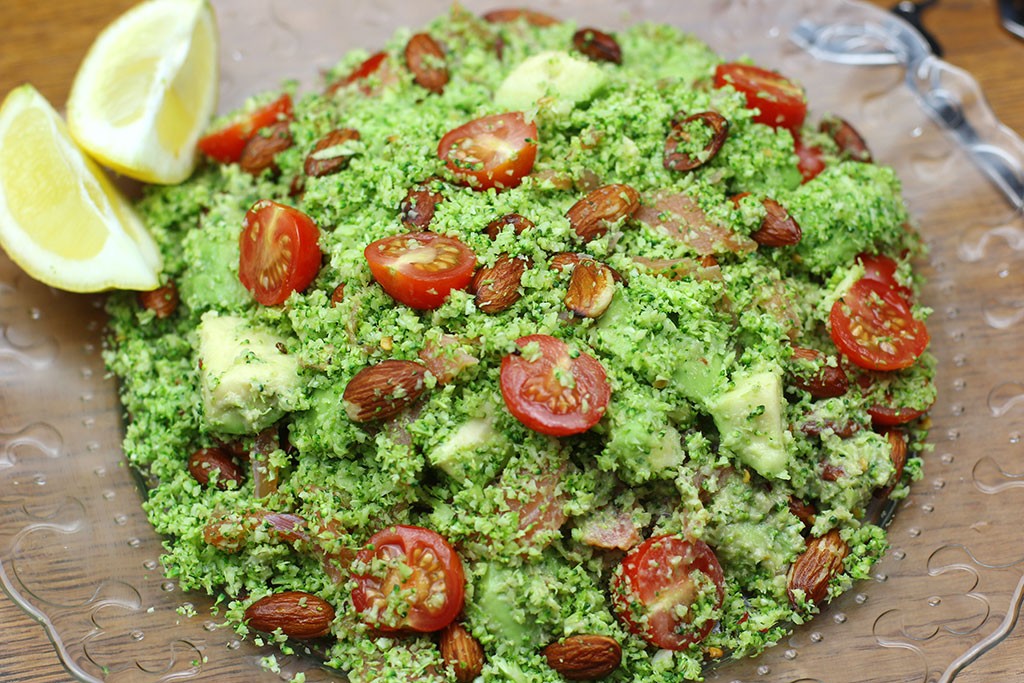 Ingredients
Head of one medium broccoli
1 avocado (deseeded and cubed)
1 cup cherry tomatoes, (halved)
½ cup almonds
100 g smoked salmon slices (optional)
Juice of 2 lemons
1 tsp. coconut oil
2 tbsp. water
2 tbsp. tamari
1 tbsp. light tahini
Instructions
Cut broccoli head into florets and place in a food processor and pulse until it forms a 'rice-like' consistency. If you don't have a food processor, you can grate it instead.
In a small pan, melt coconut oil, add almonds and cook gently until they are toasted.
In a wok (or medium pan), add broccoli rice and heat for around 3-4 minutes, (it will go bright green), then take off heat.
In a small bowl, whisk the tahini, water, juice of 1 lemon and tamari and pour over the broccoli rice. Add avo, tomatoes, smoked salmon and toasted almonds, then toss.
Once served, squeeze the remaining lemon juice over the servings and season with sea salt and black pepper.