The nightshade family includes chillies, peppers, tomatoes, aubergines, potatoes and tobacco. All these plants are linked by the shape of their flowers and the leaves on the fruit. There are actually more than two thousand plant species in the nightshade family, but most of them are inedible and lots of them are very poisonous. From the edible plants, potatoes in their many varieties are the only ones considered a vegetable, the rest are all fruit.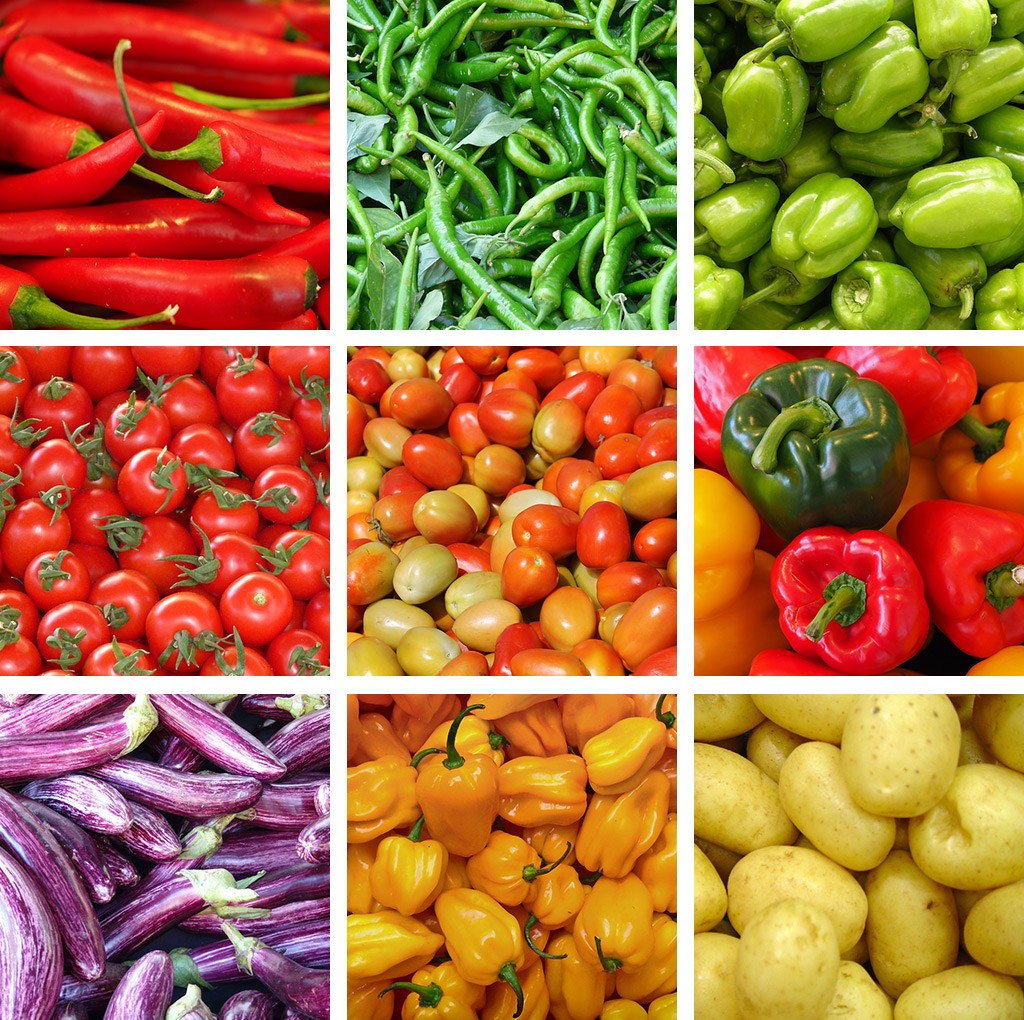 Red chillies, green chilli, paprika, tomatoes, bell peppers, aubergines and potatoes are all nightshades. Notice the stalks are all very similar, except for the potato, but that is because it's a tuber, not a fruit.
Nightshades contain various types of phytonutrients called alkaloids, which are the plants' natural pesticides that it produces. The alkaloids have been found to have anti-inflammatory properties as well as being antibiotic and antiviral, so these guys boost your immune system and help it stay strong. One of the benefits of eating the commonly edible nightshades is that our bodies absorb the plants' defence system and it becomes part of our defence system.
Some alkaloids are more poisonous than others, so it's a good idea to not eat too much of the plants in this family, as  an excess of some alkaloids can cause problems. An example  would be tobacco, with its nicotine alkaloid. Not that you should be eating much tobacco anyway as part of a healthy diet! On the other hand, tomatoes contain the alkaloid lycopene, which has been shown to help prevent osteoporosis and cancer.
Some nightshades are loaded with vitamin C, a very important antioxidant that combats free radicals, the nasties which may lead to cell damage and DNA mutation.
Nightshades have been known to cause muscle pain, joint problems and arthritis, so you should avoid them if you are experiencing pain or discomfort of this type.
These are some of our favourite members of the nightshade family:
Chillies (chilli peppers, jalapenos, habaneros, red pepper, cayenne)
Aubergine (eggplant)
Goji berries
Not so favourite nightshades:
*Potatoes are not related to sweet potatoes. Sweet potatoes are root vegetables.
x