There is a common misconception that these sweet, succulent veggies belong to the same family as the potato. I used to avoid these guys like the plague, writing them off as bad 'carbs'. I thought they were too tasty to be good for you and that they held little nutritional value. Well it turns out potatoes are in fact tubers, which belong to the nightshade family, and sweet potatoes are rootvegetables and belong to the Convolvulacea family (commonly know as Morning Glory including water spinach). Although they are considered root vegetables, the lushes beet leaves are delicious and nutritious too. The edible tuberous root is long and tapered, with a smooth skin and starchy insides, and colours ranging from yellow to orange, red to pink, white to beige and purple to brown – depending where you are in the world.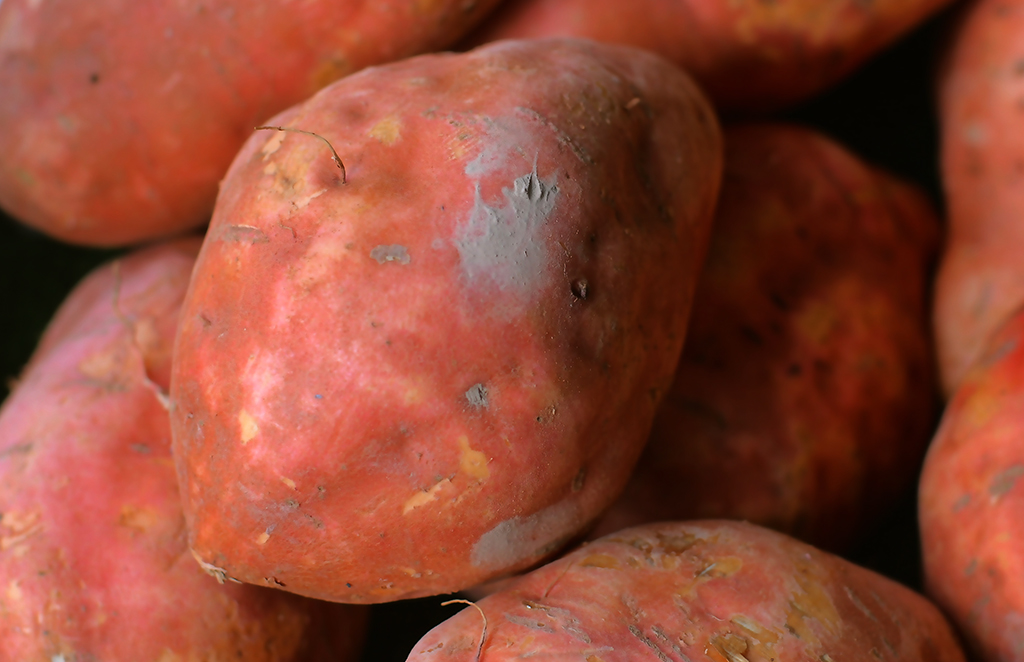 It turns out these little gems are great for you and loaded with phytonutrients including beta-carotene, which is one of the most powerful antioxidants around. It helps protect the body from harmful free radicals which lead to premature ageing and illnesses like heart disease and cancer. Beta-carotene turns to vitamin A in the body, which is key for good vision, a strong immune system, healthy skin and cell growth.
These wonderful roots are a great source of good carbs. Our body needs carbohydrates to function, but it is the right choice of carbs that will make all the difference to your overall health… and waistline. Evidence shows that eating carbohydrates plenty of fruits and vegetables, and some whole grains can help you control your weight. Their bulk and fibre slows down the rate of digestion which means the sugar is gradually released into the bloodstream, providing a steady supply of energy to the body. This slower digestion also makes you feel fuller for longer on fewer calories – which means less snacking during the day. Bad carbs are from processed or refined sources and are generally high in calories and low on nutrition, these include white bread, pastries, chips, twinkies and soft drinks (you know the ones). These digest quicker, leaving you with excess glucose in your system, which then turns to fat.
They also contain good doses of vitamins C and B. It is all of these these vitamins, along with other phytonutrients in the sweet potato that make them such a powerful disease-fighting food.
The good news doesn't stop there either – sweet potatoes provide a good amount of vital minerals such as iron, calcium, magnesium, and potassium that are very essential for enzyme, protein, and carbohydrate metabolism.
Sweet potato is an incredibly versatile food, their beautiful colour, taste and texture can be used in both savoury meals and desserts too. We just love our sweet potato pasta!
Here are some recipes that use sweet potatoes
x