Root vegetables are edible, nutrient-dense roots of plants commonly consumed as vegetables. Tuberous roots (sweet potato) and taproots (carrots) are true roots, while non-roots include tubers (potatoes), bulbs (onions) and rhizomes (ginger). The purpose of a root is to absorb water and nutrients from the soil, and then store that goodness so the plant can use it as it needs.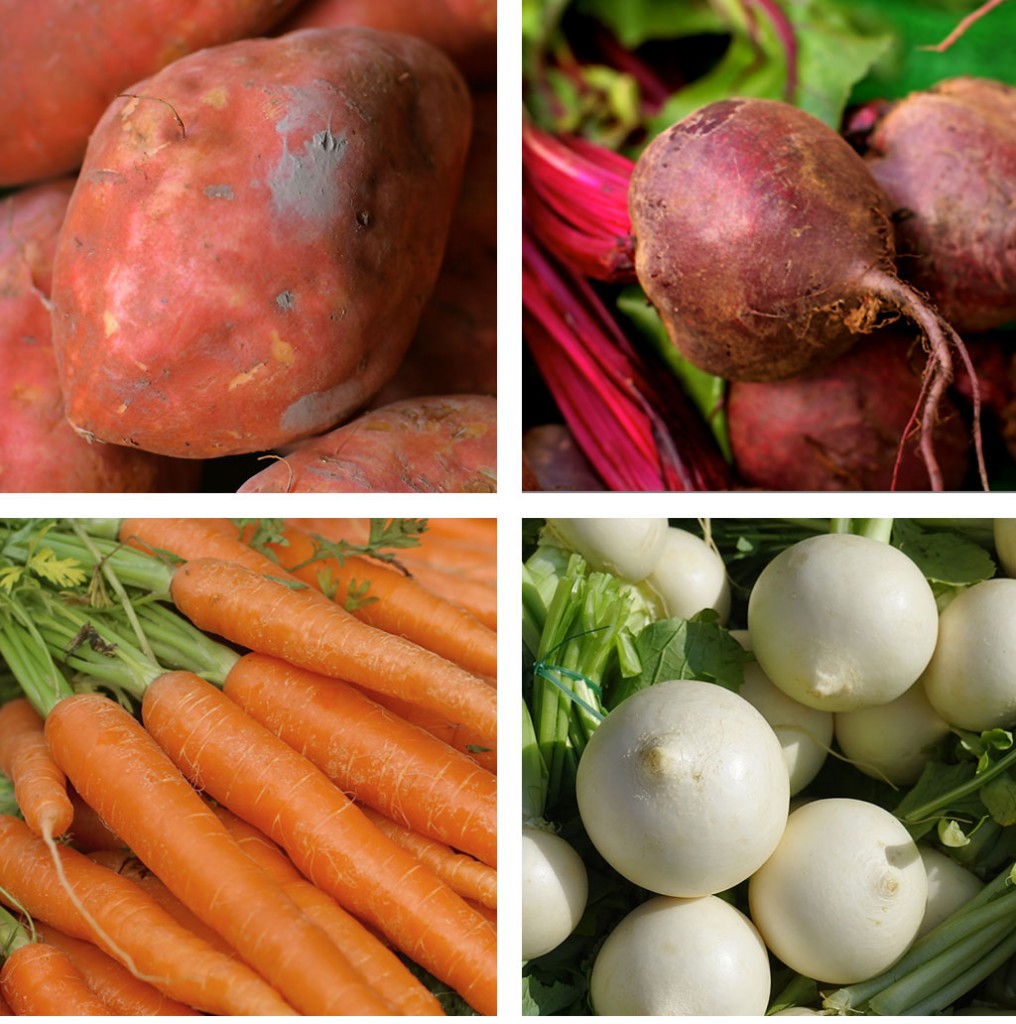 Clockwise: sweet potato, beetroot, turnips and carrots.
There are a variety of edible roots and they all share common characteristics. They are the storage organ of the plant and are commonly found underground, where they absorb high amounts of water, minerals and other nutrients from the soil, which means they are packed with goodness and have a high concentration of antioxidants. Most root vegetables are high in complex carbohydrates, which break down into good sugar in your body to give you energy and the ability to function properly throughout the day. They also make you feel full, and help regulate your blood sugar and digestive system. Root vegetables are an excellent source of fibre and phytonutrients, and are generally low in fat and calories. They are also high in vitamin C, beta-carotene, and they contain essential minerals such as potassium, phosphorous, magnesium and small amounts of iron.
Root vegetables are an important source of top-notch antioxidants that will help fight free radicals and prevent cell damage and DNA mutation. They are very versatile, can be eaten in just about any way imaginable and they always taste great. The wide variety of flavours work well in a hearty vegetable soup or fresh summer salad. Sweet potato can be a tasty substitute for potato chips, pasta or even brownies.
Given all of the nutrient qualities, root vegetables are delicious, disease-fighting, immunity and energy boosters that you really should not go without. Of course, in order to obtain the maximum health benefits, you should try to eat them in their raw state. Carrot, orange, apple and ginger juiced for breakfast is a great way to get heaps of important phytonutrients in one go.
These are some of our favourite roots:
Tuberous roots:
Taproots:
Rhizomes (stem roots):
x