Turmeric powder is ground from the stem root of the Curcuma Longa plant, which is a member of the ginger family and is found throughout Southern Asia and grows wild in the Himalayas. It has been known for centuries as a spice, healing remedy and textile dye, and traditionally used in Chinese and Indian medicine to remedy a range of diseases and conditions including liver problems, digestive disorders, aches, pains, wounds, sprains and treatment for skin diseases.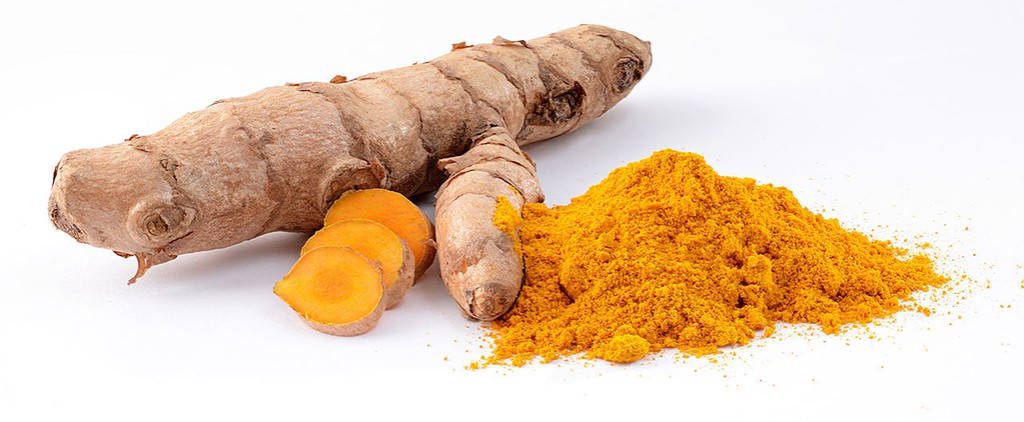 Turmeric was originally used to mask the flavour of stronger tasting meats and fish, even those that might have gone off in hotter climates like India. It not only offered protection against tainted food, but it was soon discovered that it acted as a cleanser and a bacteria-killer in the stomach.
The magical phytonutrient in turmeric is called curcumin (from the Curcuma Longa plant) which is a powerful antioxidant which neutralises harmful free radicals, reduces inflammation and oxidative stress and therefore protects the body against diseases and ageing. Curcumin shows potent anti-inflammatory, antiviral, antibacterial, anti-fungal and other anticancer properties.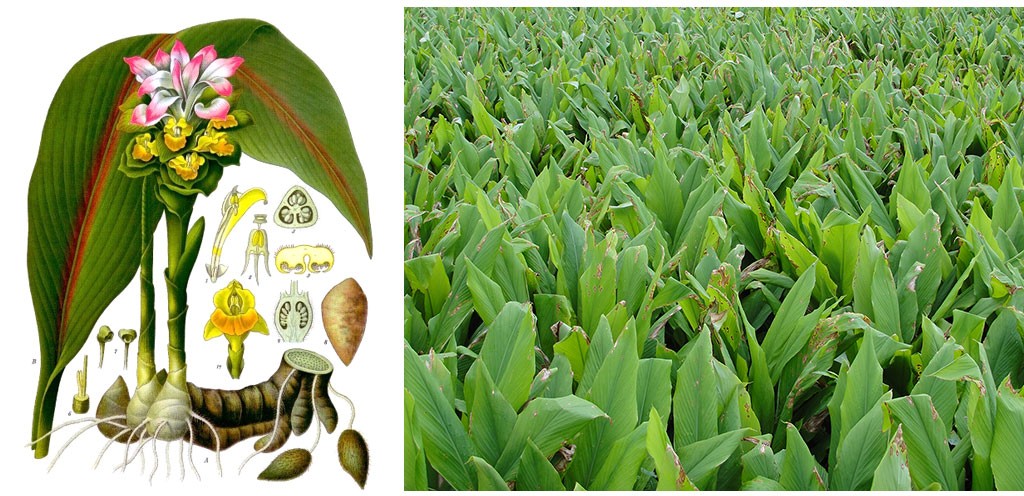 The Curcuma Longa plant
Extensive research over the last 50 years has shown turmeric to be a special root in the prevention and treatment of cancer. Turmeric restrains the growth of various types of cancer by interfering with aspects of cellular signalling and is used for the treatment of skin cancer or precancerous skin conditions both topically and internally. Curcumin also stops the action of an enzyme that produces negative inflammation which is a known precursor to cancer. It also has the ability to stop the blood supply to a tumour causing it to starve, and it has also shown to kill cancer cells and prevent regrowth of cancer stem cells which lie at the heart of many tumours.
Glutathione is a crucial antioxidant that helps the cell maintain its correct oxygen levels and fights off the effects of stress hormones. Research has shown that curcumin can interfere with the enzyme that limits glutathione production and therefore boosts cellular glutathione levels.
The health benefits of this versatile stem root spice don't stop there, turmeric also helps with digestive disorders. By adding it to foods, it improves digestion and reduces gas and bloating. Turmeric, similarly to milk thistle, has the ability to detoxify, strengthen and protect the liver. It has also been shown to be helpful in preventing the blockage of arteries that can eventually  cause a heart attack or stroke by lowering cholesterol levels and inhibiting the build up of bad cholesterol. It also helps relieve the symptoms of arthritis, joint aches and pains
Turmeric is anti-inflammatory and decreases congestion and inflammation from stagnant mucous membranes which coat the throat, lungs, stomach and intestines.
Regular use of turmeric can benefit from Colitis, Crohn's disease, diarrhea, and post-giardia or post salmonella conditions. The itching and inflammation that accompanies hemorrhoids and anal fissures can reduce by use of turmeric. Because turmeric is a potent detoxifier, it helps with skin conditions including eczema, psoriasis and acne. Including turmeric into your diet is a no brainer, it is a very important immune booster that shouldn't be overlooked.
The Okinawan Japanese are the longest living people on the planet, and many people believe it is due to the consumption of turmeric tea in their diet daily.