A new take on the original sushi bowl, given the broccoli 'rice', this dish is loaded with both phytonutrients and flavour. It is nourishing and filling without the bloat. Although you may not typically find mushrooms and butternut squash in sushi recipes, our dream sushi dish would have these flavoursome fellas, so we added them in – and it works!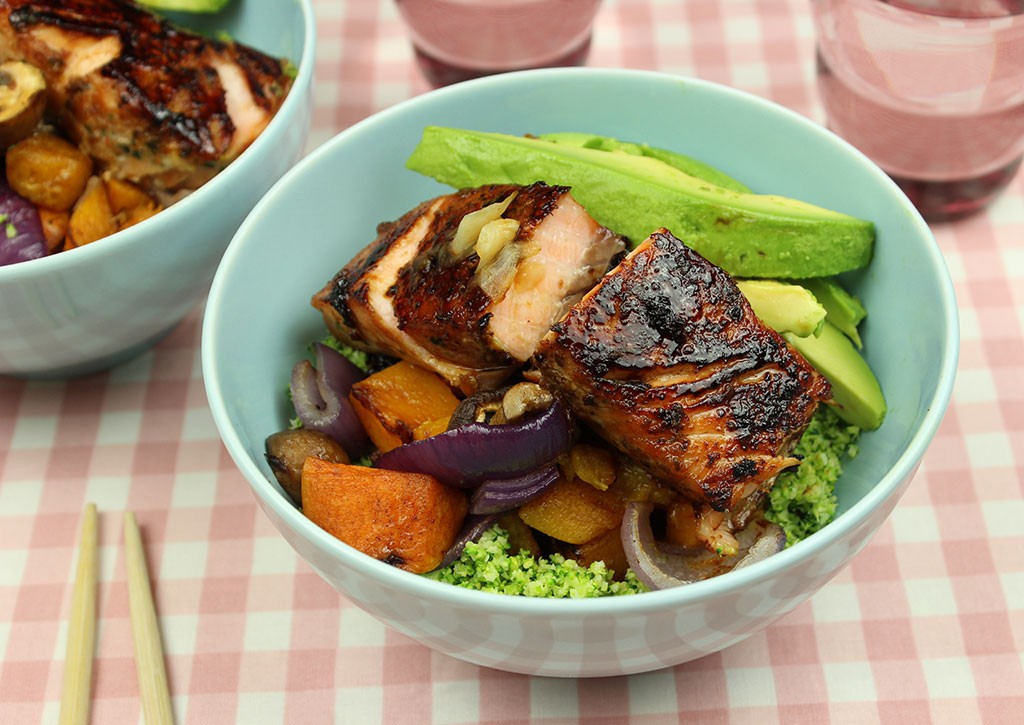 Ingredients
1 head broccoli
2 salmon fillets (around 130 grams each)
6 mushrooms
2 red onion
1 small butternut squash (deseeded and diced, around 300 grams)
1 avocado
Juice of half a lemon
4 tsp. grated ginger
3 tbsp. coconut oil
1 tbsp. raw honey
1 tbsp. water
Dash of cinnamon

HONEY SOY GARLIC MARINADE
2 tbsp. raw honey
2 tbsp. tamari (gf soy sauce)
2 tbsp. fresh lemon juice
3 garlic cloves (crushed)
½ tsp. salt
½ tsp. ground black pepper
Instructions
Preheat the oven to 180 degrees.
In a small bowl, whisk together the marinade.
Place the salmon fillets on a large sheet of tin foil (make sure there is enough tin foil for the fillets to be wrapped up in). Pour the marinade over the fillets (flesh side down) and wrap them in tin foil. Let the fillets marinate for around 10-15 mins.
Chop the mushroom and red onion into chunks and place to one side.
Chop broccoli into florets and place into a food processor. Pulse until it forms a rice like consistency. Place to one side.
On a baking tray, drizzle 2 tbsp of coconut oil over the butternut squash and sprinkle with cinnamon, place in the oven for 20 mins.
Peel the avocado, de-pip and slice into long pieces. Drizzle with lemon and set aside.
After 20 mins, take the butternut squash out, give it a turn, add the mushroom and red onion and place back in the oven for a further 10 minutes.
While the vegetables are still cooking, preheat a medium pan on a low-moderate heat, place salmon fillets flesh side down and cook for 4 minutes, before turning over and cooking for a further 4 minutes. Repeat for a further two minutes on each side, turn heat off.
Whilst cooking the fillets, take the vegetables out of the oven and drizzle with 1 tbsp of raw honey.
In a wok, add 1 tbsp of water to a low heat, add 2 tsp. ginger and gently sauté the broccoli for 2 minutes.
To assemble the 'sushi bowls', divide the broccoli between two large bowls to make a bed of rice, then place the vegetables on top, followed by the salmon fillets, topped with 2 tsp. ginger. Place avocado on the side.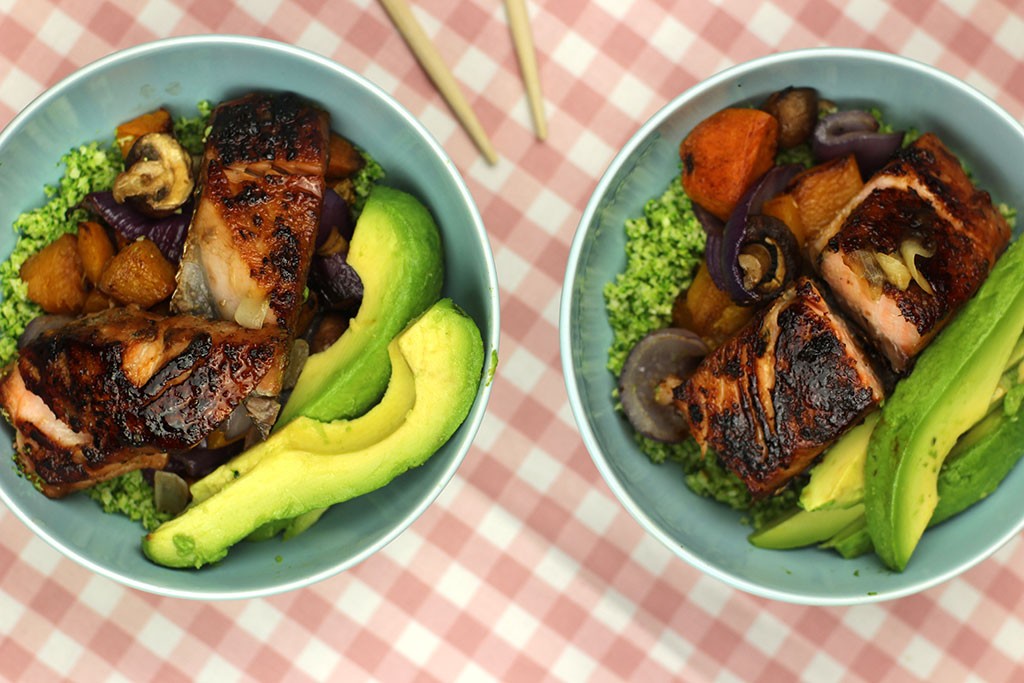 x