Over the past 18 months, we have had our fair share of incredible discoveries. One such discovery was the importance of reading food labels. We started to realise that a lot of foods we once thought were really good for us, really weren't! We both love a good bowl of granola, but after seeing all the added fat and refined sugar included in some of these products we could no longer buy it. So what do we do? Well, we went on a mission to make our own which is grain-free (thanks to the seeds and nuts) and sweetened with dried fruit, good old manuka (or raw) honey and cinnamon.
My oven has a soul of its own, so please 'up' the temperature if need be! The key is to watch the granola in the oven (like a hawk) to ensure that it does not go too golden nor burn!!
This recipe has a nutty texture, is not overly sweet and does not need to be limited to breakfast – we even have it for dessert! It is also a really cool (and inexpensive) gift for someone who digs granola. We like to gift it in a jar with some ribbon and a wee card. Enjoy!
Ingredients
4 cups mixed nuts, seeds, dried fruit and desiccated coconut (I favour pumpkin and sunflower seeds walnuts, almonds, brazil nuts, dried apricots and dates)
2 cups ground nuts (I place nuts in the food processor for 5 seconds)
4 tbsp. manuka honey (or raw honey)
4 tbsp. cashew butter
1 tsp. vanilla extract
Sprinkle of cinnamon
Instructions
Preheat the oven to 100 degrees and line two baking trays with baking paper.
Combine the nuts, seeds, fruits, coconut in a large bowl and sprinkle with cinnamon.
In a small saucepan, over a moderate heat, melt the cashew butter, honey and vanilla extract.
Once melted, pour into the bowl and combine well with the dry ingredients. I tend to use my hands to really get in there, but please be careful when doing this step as the mixture from the stove top will be hot!
Using your hands, place the mixture evenly over two baking trays (as your hands will be sticky, wash your hands before moving on to the next step).
Place one tray in the oven and bake for 3 minutes.
After 3 minutes, take the tray out, turn the granola and place back in the oven for 4 minutes.
Take out and leave to cool and place the other tray in the oven following the same steps as above.
Once cooled, keep in a air-tight container or jar.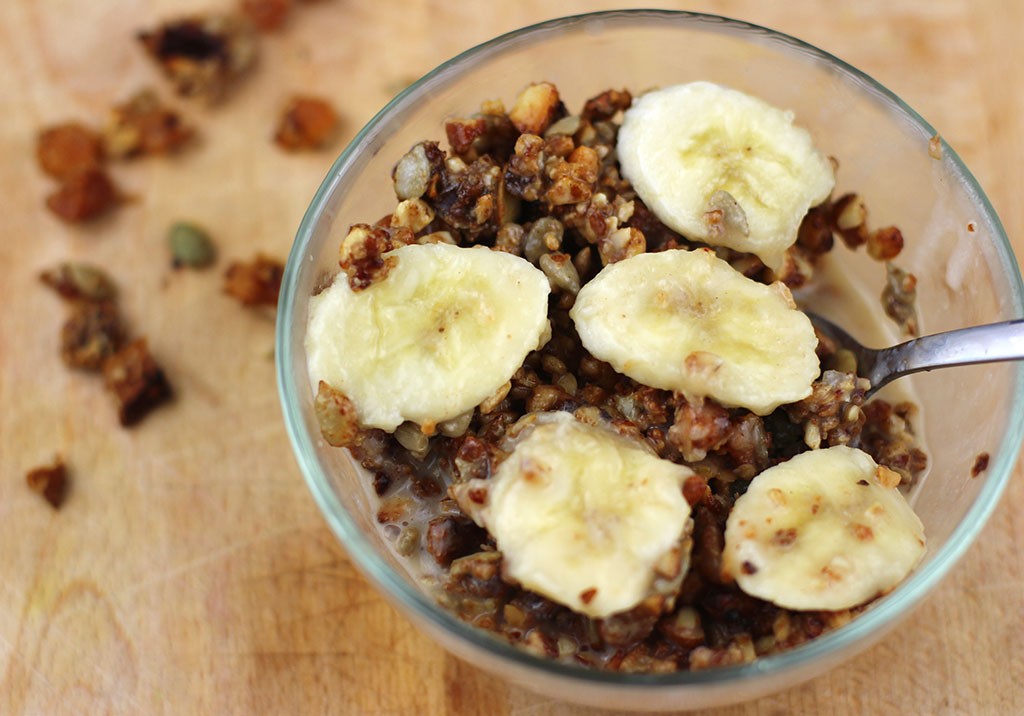 x