My Gran was the soup queen back in New Zealand. She believed that a warm hearty soup was the answer to chilly winter's night – real food for the soul. Even back then, Gran always made her soups from scratch with fresh seasonal produce.
This vegan friendly recipe celebrates the glorious brassica – the broccoli. This green gem has so many super-nutrients and is eaten in our household at least 4 times a week!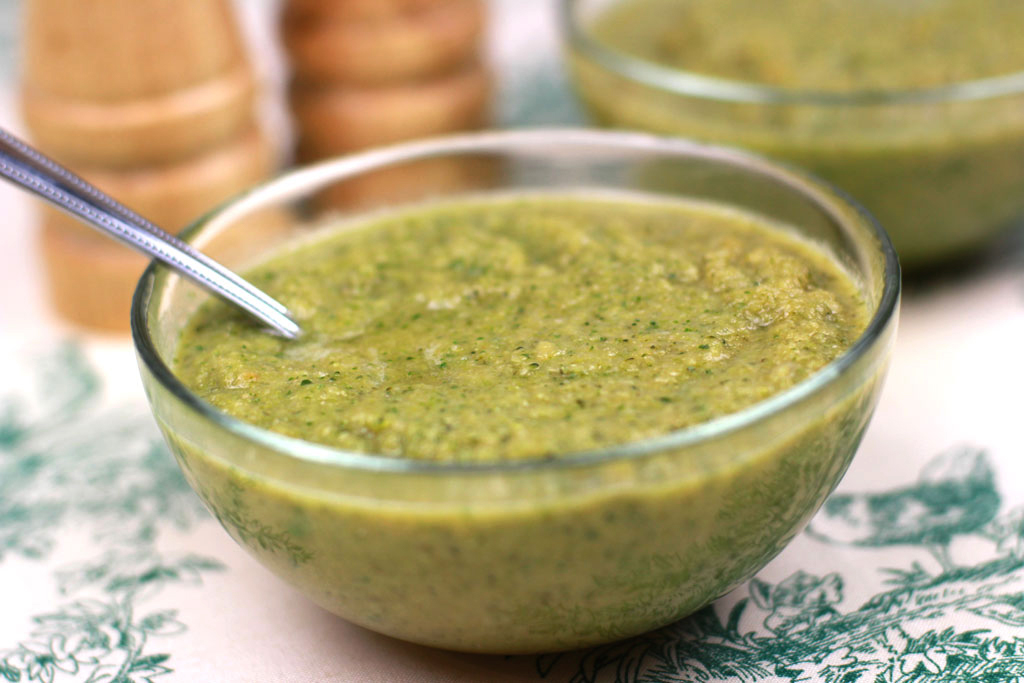 My Gran was also one of the only people who could make me eat my broccoli when I was a kid – so this hearty, nourishing soup is in honour of her!
The creaminess of this soup is achieved partly because of the chick peas – which I think works really well. This is a naturally thick dish – so please feel free to add water. It freezes well also (up to 3 weeks), so you can make up batches well in advance and pop them in the freezer to enjoy at a later date.

Serves:
2 (large serves) or 4 starter serves
Ingredients
1 medium broccoli head (cut into florets)
2 tbsp. coconut oil
1 medium red onion, (diced)
3 garlic cloves (crushed)
2 cups vegetable stock
1 cup water (optional)
1 can chick peas (rinsed well and drained)
1 tsp. chilli flakes
Salt and pepper to taste
Instructions
Steam broccoli until slightly tender and bright green. Place to one side.
Heat coconut oil in a medium pot over medium heat and saute red onion and garlic (for around 5 minutes).
Add chickpeas and vegetable stock and bring to a simmer. Add chilli flakes.
Remove from heat and place stock and chickpeas in a blender followed by the broccoli and puree until smooth. Add a cup of water if you find it to be too thick!
Season with sea salt and pepper to taste.
x