I believed cancer didn't discriminate. That it could randomly strike you down at any time, and no one is safe. It didn't matter if you were very happy or very sad, rich or poor, smoker or non smoker, healthy or not-so-healthy. People from all backgrounds and occupations could 'get' cancer. I believed this most of my life, that my fate was out of my control, that one day I may be the unlucky one in 3 (in the UK) to be directly affected by cancer. I just accepted it as fact, as fate, without looking deeper into the subject or even trying to find out more. It was all apart of the mystery, and fear, that surrounds cancer.
But then, because of circumstance, we had to start asking questions. The more we asked the more we uncovered, and the more things began to make sense. We saw patterns developing. It turns out that cancer is not as random or unpredictable as it first seemed to be. We started to see the bigger picture and begin to demystify the mystery that is cancer.
WHAT IS CANCER?
Firstly, cancer has been around for ages. Hippocrates identified and labelled it about 2,400 years ago. He used the terms carcinos and carcinoma, which are greek for crab, as that is what a breast tumour looked like. Later it was translated to cancer, which is the Latin word for crab.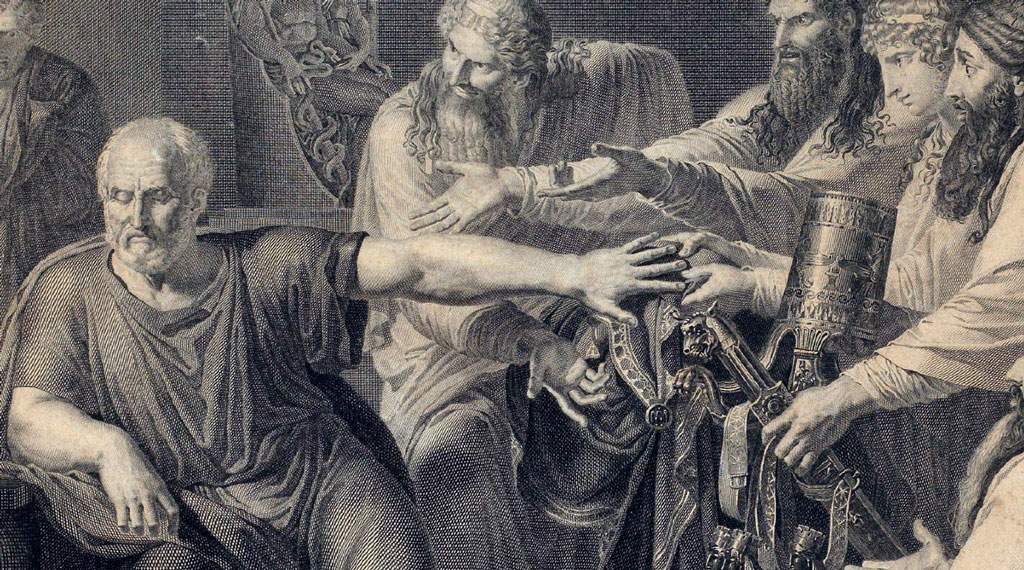 Since then, a lot more research has been done and observations have been made on this subject. We know cancer is a cellular disease of molecules and genes, and we even know many of the molecules and genes involved. We know what the triggers are, and we also know different things we can do in order to protect ourselves and even help fight off cancerous cells.
But before we get to that, there are a few important things to understand…
Let's start with cells…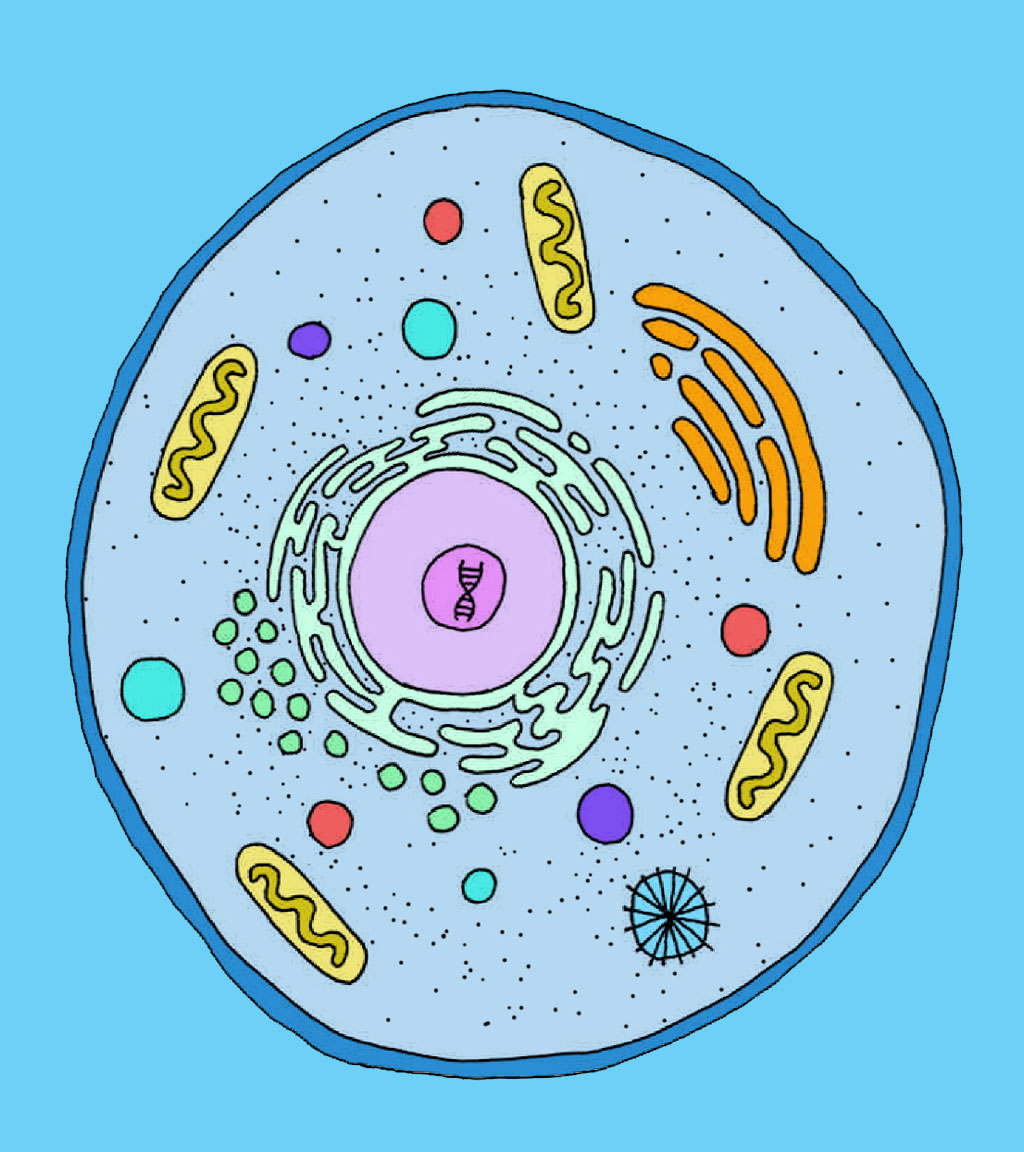 Cells in the human body generally have the same basic structure. In the center of the cell is the nucleus, which is the control center, and this is where the DNA is kept. DNA is a chain of connected genes which contain the instructions for building and maintaining our bodies. Genes control how each cell functions, including how quickly it grows, how often it divides, and how long it lives. Every cell in a particular organism has exactly the same DNA and it is super important that, when that cell divides, the two new cells have an exact copy of the DNA that was in the old cell.
Cancer is a result of damaged or mutated DNA turning the cell into a mutant cell…
A CANCER CELL
A normal cell is programmed to go through a cycle – growth, division and death. When a tissue or organ is fully grown, the cells making up that tissue or organ know when to stop dividing because it is in the blueprint of our DNA. But the DNA in that cancer cell has been reprogrammed to have the death button switched off so it doesn't die or stop dividing. This non-stop cell division becomes a malignant mass of tissue. A tumour. Tumours threaten a person's life when their growth disrupts the tissues and organs needed for survival.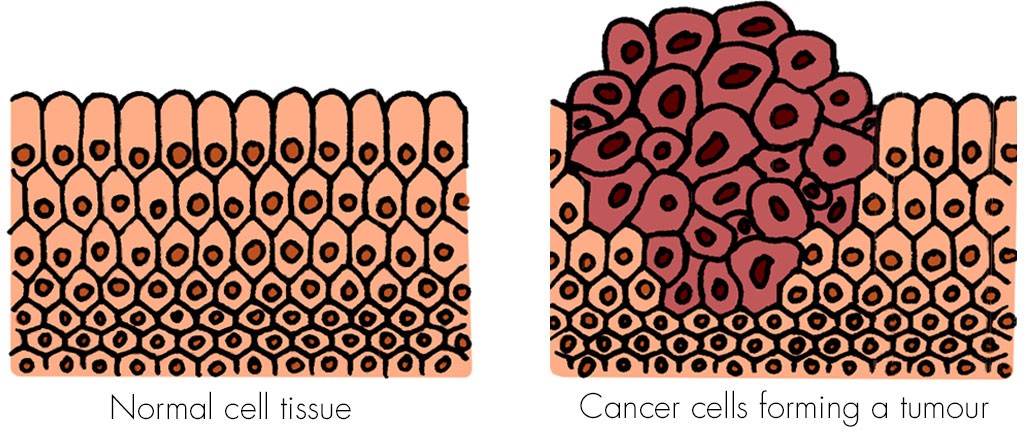 Although cancer can develop in virtually any of the body's tissues, and each type of cancer has its unique features, the basic processes that happen to bring about cancer are quite similar in all forms of the disease.
Everyone one of us has the potential to get cancer. In fact cancer cells are forming in your body all the time through natural metabolic processes. That's why our immune system is so important, because it recognises these abnormal cells and destroys them.
BUT WHY IS CANCER BECOME SO PROLIFIC?
Cancer has been on the rise over the last 100 years. Why is there a higher percentage of people suffering from caner in our recent times? Well if you look around you'll notice the environment in which most of us live has been contaminated. In our modern world we are exposed to endless amounts of toxic, man-made chemicals that have been introduced into our environment and lifestyles. The air we breathe, the water we drink and the food we eat.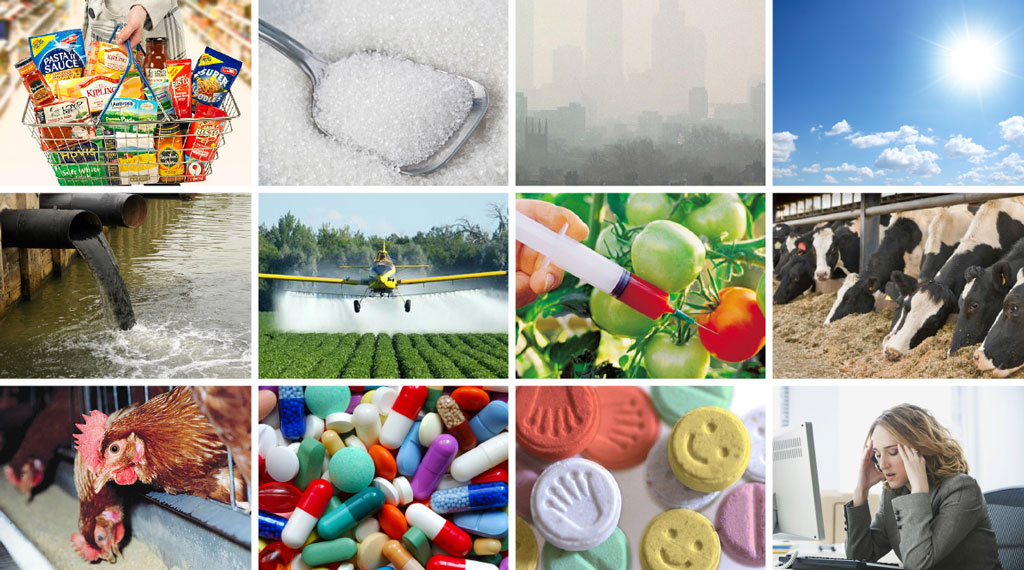 Substances, exposures and viruses that can change our DNA and lead to cancer are called carcinogens (remember Hippocrates called cancer carcinos). Carcinogenesis means the 'creation of cancer' and is a process whereby a normal cell's DNA is damaged or changed by the carcinogen to become a mutant, cancer cell. Carcinogens fall into 3 broad categories: chemical, radiation or viral.
An important observation made about cancer in the early days was that it wasn't as random as we first thought – but rather is incidental. In the late 1700's, a large number of men who worked as chimney sweeps as boys were diagnosed with scrotal cancer. In the 1800s, a large number of uranium miners in Germany were diagnosed with lung cancer. And by the end of the 19th century, using snuff and cigars was thought to be closely associated with cancers of the mouth and throat. These clues helped scientists to discover patterns in the development of cancer. There always seemed to be an instance, or event, that turned a healthy cell into a cancerous cell. In a tumour, there will always be a single ancestral cell that was once one of your own healthy cells. A cell mutated and then multiplied uncontrollably.
We know now that certain types of jobs carry a higher risk of cancer development than others. Cancer of the bladder is associated with rubber, dyestuffs and electric cable industry workers. Leukaemia is associated with excess exposure to ionizing radiation (X rays). Cancer of the tissue lining the lungs (mesothelioma) is associated with asbestos workers. Liver cancer is associated with vinyl chloride workers (vinyl chloride is used to make PVC) and lung cancer is associated with uranium mining, and of course, cigarette smoking.
There can also be a long dormant period between the carcinogenic exposure and the appearance of cancer. There are cases of people who had been born near asbestos mines and left the area as children but developed mesothelioma much later on in life. A rare type of vaginal cancer was found in young women whose mothers had been treated with synthetic female sex hormone 20 years before, while they were still foetuses.
There is a big difference between a developing system such as the foetus and a more robust mature system. The recent rise in childhood leukaemia is thought to be caused by prenatal exposure to pesticides or petrol additives that disrupt the foetuses endocrine systems (the endocrine system is a collection of glands that release hormones directly into the blood ie the pancreas, ovaries, testes, thyroid glands etc). Leukaemia can be produced by very small doses of certain chemicals if exposed at a critical time during pregnancy. These chemicals program the developing foetuses for cancer in early life.
The scary thing is that chemicals and hormones that have recently been introduced into our food and the environment are subtle and unpredictable. Man has not been exposed to many of these chemicals for long periods of time and the effects these pollutants may not surface for many years. So we need to act now.
SO WHAT CAN WE DO ABOUT IT?
The American Cancer Association for the prevention of cardiovascular disease and cancer are currently recommending a plant-based diet. This includes heaps of fruits, vegetables, seeds, nuts, legumes and whole grains with some lean protein, such as fish or chicken. It limits red meats, processed meats and refined foods.
Continuous studies show that vegetables (including legumes) and fruits contain numerous vitamins, minerals, fibre, carotenoids, flavonoids and various other phytonutrients that may help prevent cancer. There is probable evidence that the more you eat non-starchy vegetables (such as broccoli, green beans, and squash) and fruits is associated with lower risk of mouth, esophageal, bowel, throat, lung and some types of stomach cancers.
Other observational studies have shown the cancer preventative effect that eating Brassicas (the cabbage family including broccoli and cauliflower) can have. Just 3 servings per week can reduce the risk of prostate cancer by 40%. One or more servings of cabbage per week reduced risk of pancreatic cancer by 38% and eating Brassicas can reduce the risk of breast cancer by over 50%. This potent veggie group contains special compounds called glucosinolates which are responsible for the plants pungent aroma and bitter flavour, as well as their preventative effects on cancer.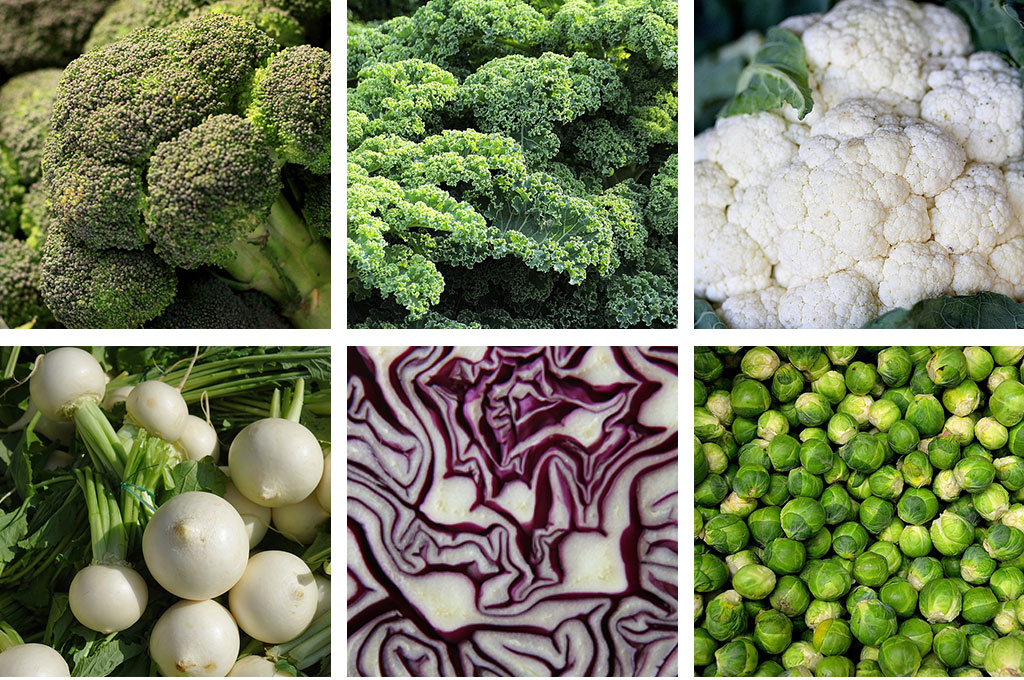 Garlic also has a number of powerful compounds including sulfur-based phytonutrients that attack cancer cells. Garlic's special compounds have also been found to stop carcinogens doing their dirty work in the stomach and in the intestines. Garlic has been found to be protective against colon, lung, breast and prostate cancers, but most effective against stomach and colorectal cancers.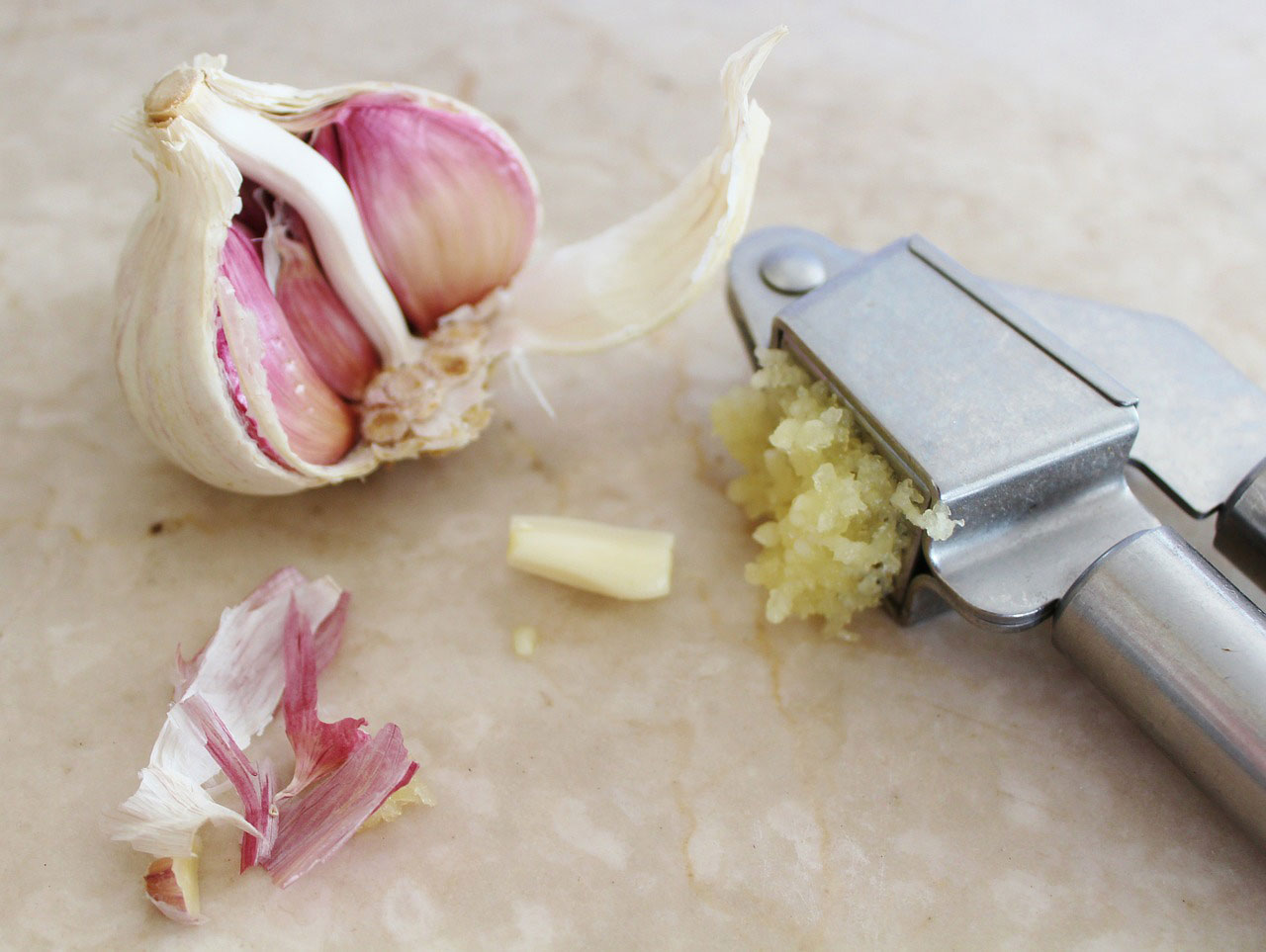 Grains such as wheat, rice, oats, and barley, and the foods made from them, are an important part of a healthful diet. Wholegrain foods (made from the entire grain seed) are relatively low in caloric density and higher in fiber, certain vitamins, and minerals compared to refined flour products. Although evidence of the association between whole-grain foods and different types of cancer is limited, studies support a role for a diet high in fiber in reducing the risk of colorectal cancer.
On the other hand, studies show people who eat a lot of red  (beef, lamb, pork)or processed meats (lunch meats, bacon, hot dogs) have a shorter life span with an increased risk of cancer and heart disease, especial the risk of colorectal cancer. Substances used to preserve processed meats such as nitrates or nitrites can contribute to the formation of nitrosamines, which are involved in carcinogenesis (the creation of cancer). The British Heart Foundation says eating oily fish can help reduce the risk of heart disease and improve your chances of survival following a heart attack. Replacing one serving of red meat with an equivalent serving of fish reduced mortality risk by 7 per cent.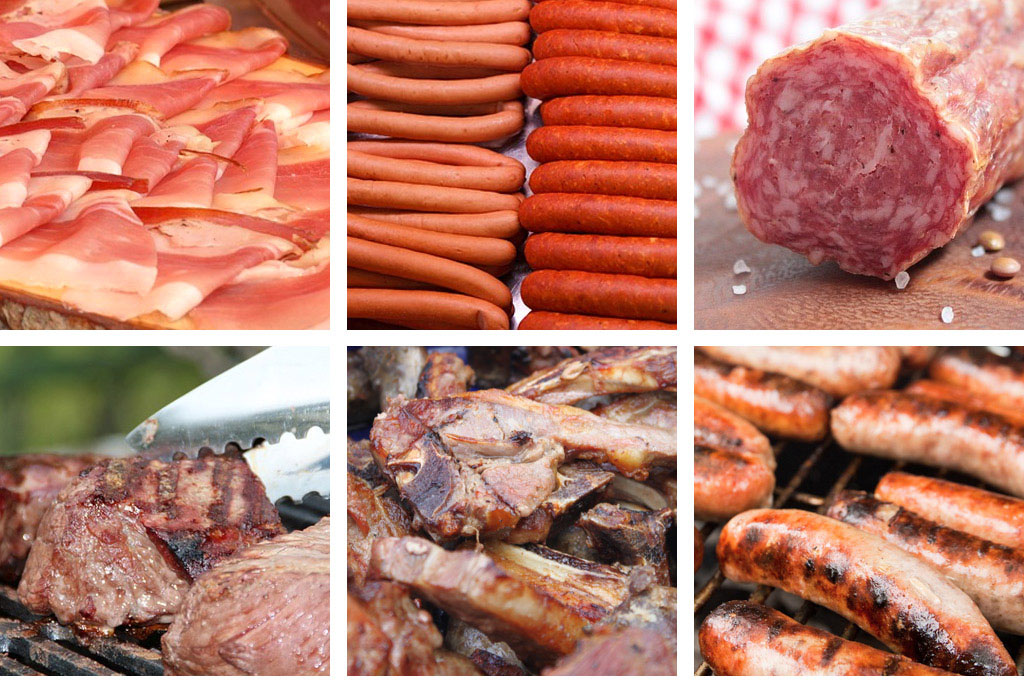 Alcohol is a well established cause of cancer (it has been classified as a carcinogen since 1988) and can be responsible for 7 different types, including breast, liver, mouth and bowel cancers.
Experts believe that smoking is the single biggest avoidable cause of cancer in the world. It causes about a quarter of cancer deaths in the UK, and 90% of lung cancer cases are related to smoking.
Cancer prevention requires a strong immune system, and your immune system gets a boost from regular physical activity. Studies have shown that moderate levels of exercise can reduce the risk of colon cancer by 50 percent and the risk of breast cancer among postmenopausal women by at least 20 percent. Regular exercise has also been strongly associated with lower rates of lung and endometrial cancers, as well as heart disease.
Many studies have been done on the benefits of plant-based food and exercise as well as the others on the dangers of certain substances and lifestyles. Some involved tens of thousands participants, and others just hundreds. And even if you don't think the statistics are 100% accurate there is still a trend, and the trend is that a plant-based wholefood diet and exercise offers protection from chronic diseases, and the latter leaves you open to it.
NOW WHAT?
Sometimes what tends to happen is people don't relate to a single statistic. It's easy to put a single statistic out your mind. But when you see those stats and studies together, the puzzle starts piecing itself together. You begin to see the bigger picture and it starts to make a lot more sense.
Humans need plant-based food to survive. Our cells need to be fed what they have evolved to be fed and our immune system needs the support of the phytonutrients found in plant-based food. You wouldn't put rubbish fuel into a sports car and expect it to function at it's peak. Processed food and refined sugars are not what our bodies need and it's not what they are made for. Our cells rely on compounds in plants to get them through the day.
HOW RANDOM IS CANCER?
Anyone has the potential for cancer, but there are ways to arm ourselves and better our chances for a healthy, disease-free life. I think cancer does discriminate a little bit. It discriminates against unhealthy lifestyles, obesity, processed and non-organic food, and toxic jobs (both mentally and physically).
I sometimes heard people say that cancer and heart disease runs in the family. Does cancer and heart disease run in the family or does red meat, fried foods, sweets, butter and twinkies run in the family? Almost in a way it's easier to just tell ourselves it's out of our hands, which then takes responsibility away from ourselves.
Cancer research scientists have been concentrating on seeking a cure. Is it just possible that for many of the forms of cancer there will be no magic cure and the most practical approach is to find means of prevention. Educating on the importance of diet and wellbeing. Acting now rather than waiting for something dire to happen.
A healthy lifestyle can help lower your risk of developing certain cancers – you've heard that before haven't you? A balanced diet, drink less alcohol, stop smoking and protect your skin from sun damage. That's old and boring news. But it's very important old and boring news that we tend to forget sometimes. We think the solution to a long, happy, healthy life is a long, happy, healthy lifestyle.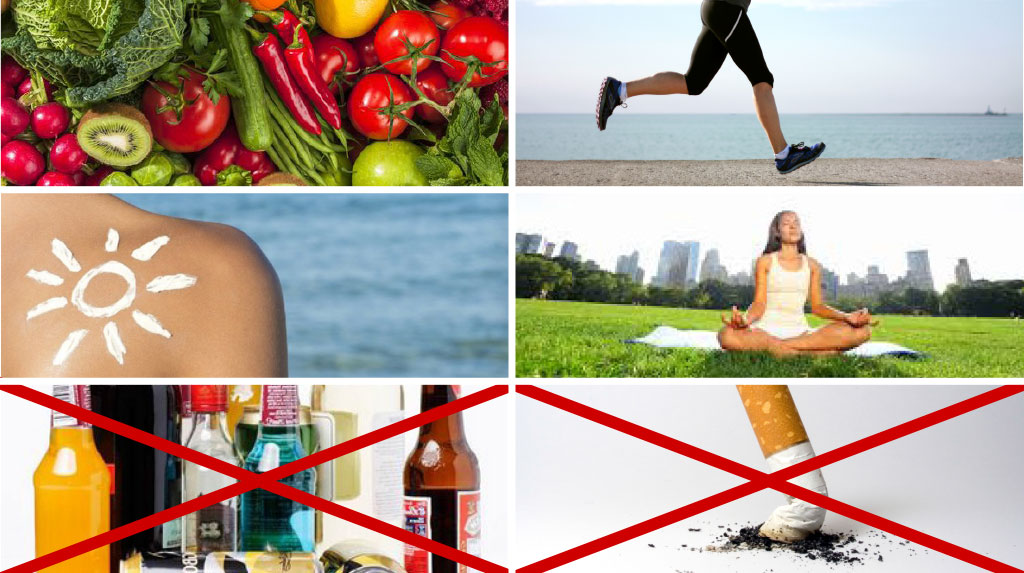 The American Institute for Cancer Research has 10 recommendations for cancer prevention.
In a study of over 30,000 women over 6 years they found that the risk of breast cancer was reduced by 60% in women who met at least 5 of the recommendations than those who met none.
The 10 Recommendations are:
Then, of course, don't smoke and or chew tobacco.
The trick is to be mindful of what we put in our bodies. Not obsessed. That then becomes unhealthy again. Try have a healthy relationship with food, understand what's going into your body and know the consequences of the substances you exposed yourself to. Your body is your responsibility. You are the master but you don't need to become a dictator. You can still have the bad stuff, but only in moderation, and as long as you are also having most of the good stuff.
So, when thinking about food choices we shouldn't be focused on the calorie count or fat content –  we should rather ask ourselves, is my food natural or processed? Raw or cooked? Sprayed or organic? Does it contain saturated fats or unsaturated fats? Does it deliver its own enzymes? Is it digestible or indigestible? Does it contain fiber? These are the questions that will keep your body healthy and your waistline naturally trim.
We say go crazy on the veggies and fruit, nuts, seeds, mushrooms and oily fish. As much as you like. Then moderation with whole grains and very sugary fruit like watermelons and dates.
Then heaps of moderation on red meat (once a week is a lot) and try avoid refined sugars and processed food altogether. That is the real bad stuff that will get you into trouble.
Then, of course, go organic as much as possible. Drink filtered water. Stay out of sun between 11am and 3pm.
Other things are more complicated to do. London has one of the highest rates of lung cancer and lung disease and this is directly related to the quality of air in the city. The solution – don't live in 'The Big Smoke' too long?
Many specialists in the field of cancer control research now believe that chemicals present in food and the environment in general are responsible for 70 to 80 per cent of all cancers in humans; the remainder are believed to be caused by radiations, viruses or genetics. We have control over the dietary factors and staying on top of this means stronger cells and a stronger immune system, which then means your body can fight off the environmental cancer-causing free radicals much more effectively. All in all, the right diet means the chance of cancer and other chronic illnesses is reduced, which is a very good thing.
x

Latest posts by Graydon Pieterse
(see all)