The life functions of cells are controlled by enzymes and they are present in all living animal and plant cells. Enzymes are responsible for making seeds sprout, for turning leaves brown, and for keeping you alive. They are essential for every chemical reaction that happens in a cell and no living cell can exist without enzymes.
There are three very broad types of enzymes:
PLANT ENZYMES are responsible for the life cycle of the plant, including the decomposition process. They can be found in raw food from plants and it's very important to include these foods in your diet so you're not relying on only your own digestive enzymes to do all the work. With the natural plant enzymes contributing to your digestive processes, more of your own enzymes are free to perform other vital tasks within your body.
DIGESTIVE ENZYMES are found in your saliva, stomach, pancreas, and small intestine. They break food down into particles that the body can use to produce energy. These particles are also broken down to make them small enough to be carried across your gut wall and used throughout your body.
METABOLIC ENZYMES keep the cells functioning around the clock. They speed up the chemical reactions that take place in our cells, making them run at their optimum best. They are responsible for our breathing, seeing, walking, thinking, our nerve transmission, brain signals, oxygen exchange, liver function, pH balance in the blood, and even for leveling out our hormones. Everything that happens in your body happens because enzymes are working to make it happen.

The molecule an enzyme reacts with is called a "substrate". After the reaction the new substance is called a "product". Enzymes can turn vitamins and minerals from the food we eat into energy the cells need to function at their peak.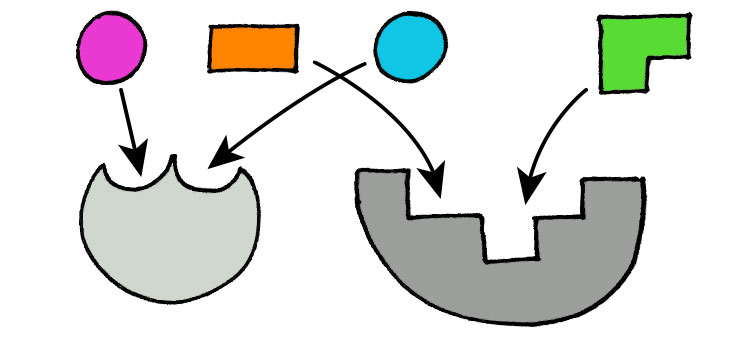 Certain enzymes only work with certain substrates. Enzymes are very specific and usually only complete a certain task.
Plant enzymes are the major difference between living, natural, nutritious, wholesome food and dead, vitamin deprived, processed food.
Take a banana. Leave it in the fruit bowl for 4 weeks and what happens? It turns from green to yellow to black. It ripens, then it rots. Now take McDonalds fries and leave it out for a year. Guess what happens? That's right, nothing. It doesn't decompose, because it doesn't have any enzymes in it.
So when we eat processed food, like those McDonalds fries, the body has to rely solely on it's own digestive enzymes to break that 'food' down into useable forms (even if those forms may not be that useable or useful). No matter how greasy, no matter how much extra cheese, or how much white sugar, or chemicals, no matter how indigestible a food is, your body's enzymes will try to break it down. But, with hard to digest foods, this can put a lot of unnecessary demands on your natural digestive processes and your body's resources.
Natural foods like fruits and vegetables are very easy on the body. These foods have their own enzymes which break down the food for you. The body doesn't need to waste precious energy or produce powerful digestive acids to break these foods down and turn them into a useable form.
Our digestive enzymes can cope with a balanced diet, but if there is a constant flow of manmade, indigestible foods going into our system day after day, month after month, year after year, it begins to accumulate and overrun the system. Remember, our bodies aren't used to our modern diets. Our ancestors never had to deal with crisps, chocolates, chicken nuggets, ice cream, canned food, pasta, pizza, biscuits, white bread, croissants, beer and all those other manmade indigestibles. The more enzymes we use for digestion, the less are available for the thousands of other tasks which the metabolic enzymes have to perform in our bodies. Think of people who are grossly overweight – they don't function at their peak. In fact, some even battle to walk or even breathe. All their enzyme energy is spent trying to digest all the indigestible food that they keep sending down into their gut.
Our digestive system has developed from hundreds of thousands of years of animal evolution, originally for the purpose of breaking down plant-based food and the occasional animal protein. This new way of life is merely a blip on our digestive systems' timeline. The cells lining the digestive system come into direct contact with the foods we eat and the substances contained in our food can affect those cells. Eventually, after years of our systems being subjected to this bombardment of unnatural rubbish, they can't deal with all the muck and the undigested bits begin to rot, creating hundreds of toxins and free radicals. Then the rotting, undigested debris gets absorbed through the gut wall into the bloodstream and this is where the problems start. From there, these toxins can go anywhere in the body.
The first thing that happens once your system is overrun by toxins is your red blood cells start sticking together. This means they can't circulate as freely as they normally would so they can't carry oxygen to the rest of the body as easily anymore. They get stuck going through small blood vessels and block the flow – this leads to the tissues in your body becoming oxygen-deprived.